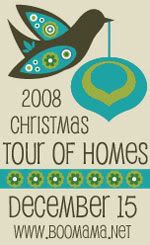 This is the first year I have joined the Christmas Tour of Homes that Boo Mama is hosting. It looked like a lot of fun last year, so I decided to try it! So,thanks to Boo Mama for hosting and to you for dropping by! :-)

Welcome to my home!

When you first walk in, you are greeted by this snowman, who says things like, "Come on in! It's cold outside!"

And it usually IS cold outside!

Here is our dining room~

And here is our tree and stockings~

No mantle for hanging stockings, so we used the bookshelves next to the tree where I would like a fireplace to be someday! :-)



Some ornaments~

My son made this one when he was in preschool. :-)


This little lady came on a package when I was a little girl. We put her on the tree and I used to play with her every year. Now my little girl plays with her every year! :-)

On the buffet~

We have a basket for Christmas cards and a Nativity with figurines that my kids can play with and act out the Christmas story with. We are celebrating the fact that God stepped into history as a baby and lived and died so that we could know and love Him.
Thanks for stopping by!



Merry Christmas!